MY ROLE
I helped:
frame product vision, strategy and success metrics

identify business goals and user needs

prioritize opportunities on the product roadmap

come up with a plan to validate and iterate
TEAM
Cross-functional team consisting of:
Director of product

Engineering manager + engineers

Bizops

Design manager/PM (me) + 1 lead designer + 1 user researcher
PRODUCT VISION & STRATEGY
UGC was previously mostly perceived as a driver for same session conversion. This has prevented the team from doing the right thing for all the players in the ecosystem: consumers, contributors, merchants and Groupon. I helped reposition the UGC team's mission, framed the discussion on why Groupon should invest in it, and what we should build. I also helped redefine the success criteria for this project around long-term metrics than short-term metrics: for the consumers, Trust Scorecard - and for contributors, Reviews Per Redemptions.
We provide our customers with the means to share their experiences using Groupon - including ratings, reviews and photos - to:
- Instill shoppers with confidence in buying Groupon deals
- Provide merchants with actionable feedback to provide better customer service
- Create a neutral and trustworthy marketplace that rewards quality merchants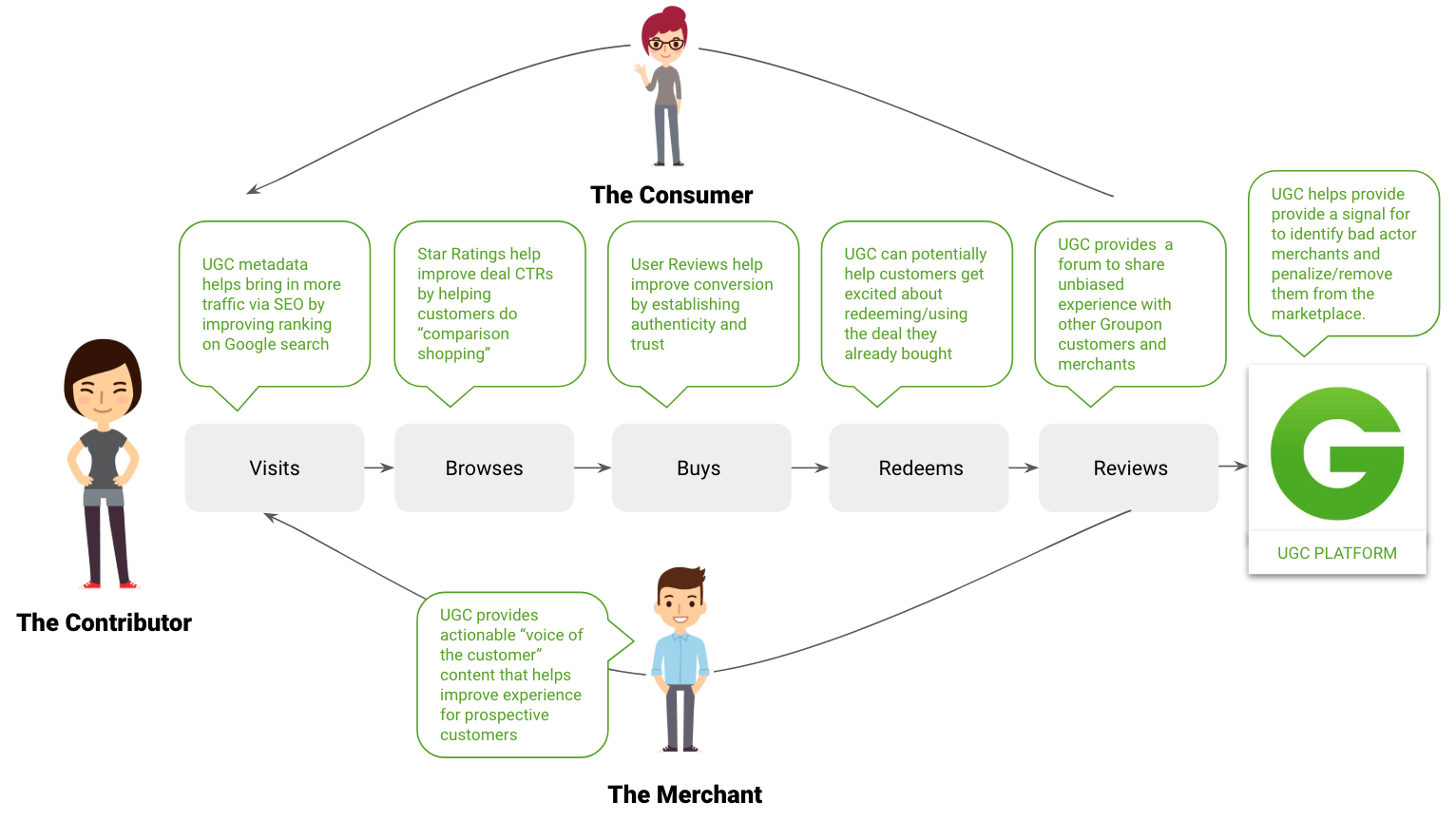 - Build trust
- Increase user engagement
- Help merchants improve customer service
- Help reduce CS contacts
- Foster network effects of a community
USER MOTIVATIONS, NEEDS & FRUSTRATIONS
After triangulating data from past user research studies, App Store reviews and analytics, I developed these player archetypes to help build empathy for the project.
PRODUCT THEMES
Working with cross-functional partners, I developed a few product themes to meet business goals and user needs for all the players.
While UGC has been a critical part of the shopping experience, there hasn't been any research fully dedicated to it. We took the time to pause and do an overall assessment. The goals of this research were to:
- Identify gaps in the current experience
- Understand how users engage with new concepts and inform their iterations
- Identify key opportunities for UGC
We tested some concepts initially through an in-person RITE study, and later through usertesting.com:
Some concepts we tested in this user research:
DIMENSIONS: Dimensions provides an at-a-glance view of key insights consumers look for in reviews and saves users' time in digging through individual reviews. We tested multiple iterations of this concept to finally arrive at a solution that works best for consumers and contributors. This feature was considered extremely useful to consumers.
ASPECTS: Aspects highlights key topics mentioned in reviews, and allows consumers to easily pull up reviews based on those topics. Not everyone engaged with these right away, but once they engaged they loved it. This feature was considered extremely useful to consumers.
CONTRIBUTOR PROFILE: Contributor profile not only helps bring visibility to a contributor's impact on Groupon marketplace, but also helps builds trust by assuring consumers that reviews come from actual Groupon users. This feature was considered somewhat useful to consumers.
NEXT STEPS
Measuring Trust: We know that Groupon users don't fully trust ratings and reviews on Groupon. They navigate outside of Groupon (e.g., to Yelp) to seek additional information, which not only makes the shopping experiences time-consuming, but also increases the risk of users abandoning deals on Groupon. We want to consistently measure trust as we make changes and conduct experiments for improving trust on Groupon's UGC. We are defining a new instrument called Trust Scorecard that provides an overall measure of trust based on certain constructs (such as general trust in reviews, perceptions of Groupon integrity, perceptions of reviewer competence)

Opening up UGC to those who have not redeemed Groupons: Today, 85% of Groupon's ratings are either 4 or 5 stars. While this is great, we also believe this is somewhat artificial as we don't capture important negative sentiment associated with unresponsive merchants. Currently, the UGC system is only open to Groupon customers who have redeemed a deal successfully. We want to allow customers to submit feedback on merchants even if they haven't redeemed a deal, allowing us to capture meaningful signals such as: merchant did not honor my Groupon, unable to contact merchant, merchant unable to schedule an appointment etc.
LEARNINGS
Trust: Trust is the foundation for any UGC platform. Without trust, consumers won't engage with any content included in Groupon's UGC.
Drive Faster Purchase Decisions: As much as users value ratings and reviews, they are another thing consumers have to pay attention to while shopping on Groupon. The ultimate goal for consumers is simply to feel confident about their decisions. The more we can reduce their cognitive load and extract key insights, the faster and easier it will be for them to make a purchase decision.
Invest in building a community: Many consumers just see Groupon as a place to get discounted services or product. The interactions are very transactional. There is little relationship among consumers or between consumers and businesses.